Behind The Seams: Amsale
Welcome to Behind The Seams, a brand new column brought to you by the lovely Mandy from Savvy Brides. Mandy specialises in acquiring and selling pre-loved designer wedding gowns and is an industry expert on designers from all over the world. In this column Mandy will be sharing her knowledge, insights and opinions on the best wedding gown designers, from the biggest in the world to the up and coming ones to watch!
In this post Mandy gives you the lowdown on:
Amsale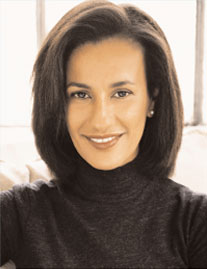 Amsale (pronounced Ahm-sah'-leh) is a Savvy Bride's favourite and one of the most celebrated and loved bridal designers. Amsale makes the most incredibly elegant gowns that are known for their simplicity and wonderful quality.
We love Amsale for her modern take on traditional gowns but we especially love the amazing story behind this label.
Amsale was born in Ethiopia and she always says she never dreamed of being a fashion designer, because in Ethiopia no such thing existed! After moving to the United States she began making her own clothes because she could not afford to buy the clothes she liked. She eventually went on to fall in love with fashion and studied it at New York's Fashion Institute of Technology.
Amsale's career in bridal wear started after she planned her own wedding and found there was a gap in the market for simple, clean and sophisticated gowns. Amsale made her own gown and after her wedding (at the insistence of her husband) placed an advert in a bridal magazine offering a couture service. Her first client was a bride in need of a veil. Amsale obliged and from there her bridal business was born.
Amsale trained under bridal legend Christos and has gone on to take over as creative director for his label too!
Amsale now has a flagship store on Madison Avenue in New York. Her gowns have been worn by Halle Berry, Julia Roberts, Selma Blair, Salma Hayek, Lucy Lui, Heather Graham, Kim Basinger, Lisa Kudrow, Katherine Heigl and many others. Her gowns have also famously been featured on The Oprah Winfrey Show, Grey's Anatomy, and the movie 27 Dresses. The brand has recently gained further worldwide exposure through its own reality TV show, Amsale Girls.
Prices range from $3,000 to $12,000 and collections are designed for brides who are looking for a fashionable yet timeless look. Amsale's mantra is that in twenty years brides should be able to look back at their wedding and still love how they looked on their wedding day.
Amsale is also known for her ability to flatter the female body to perfection. A great example of her style is the elegant Serena dress; timeless yet contemporary and glamorous: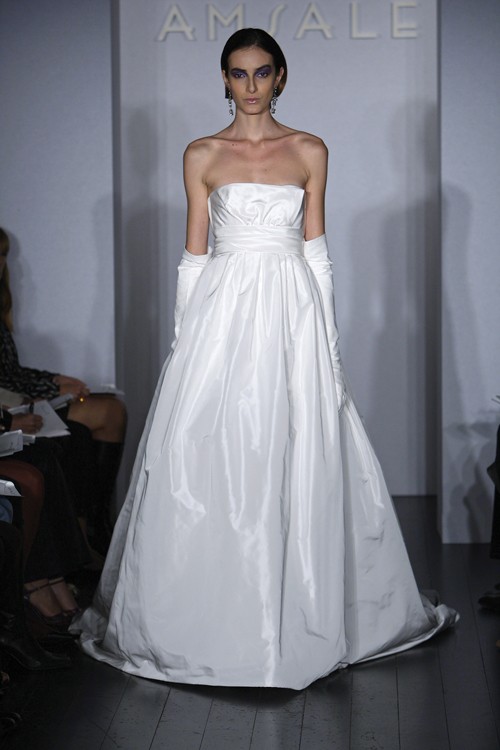 Another good example is the Aeryn gown from her Christos range: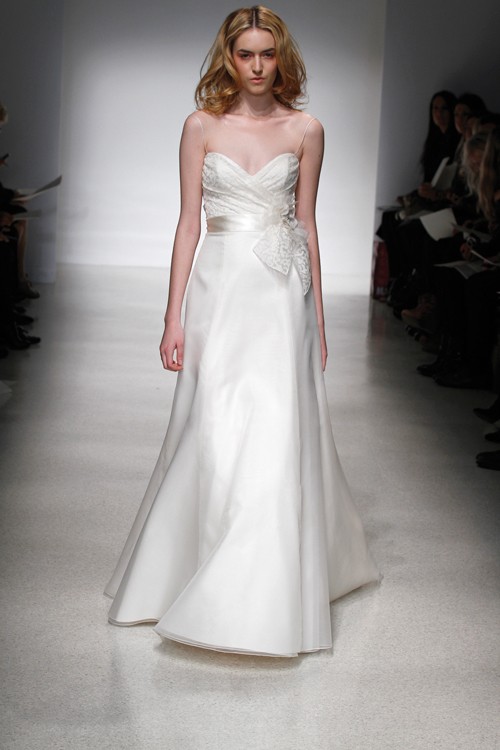 For this gown she has used fabric not traditionally seen in bridal and teamed it with a classic silhouette that creates an elegant and modern look.
All featured dresses are currently available at Savvy Brides so please contact Mandy for more information or to book an appointment at her gorgeous boutique in Double Bay!
For more Amsale goodness: website, facebook, twitter, tv show